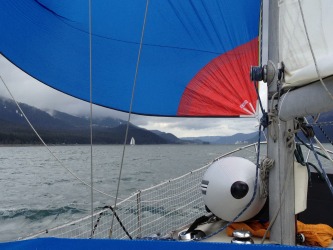 Three sailboats motored to the Marmion Island starting line to race in SEAS Kickoff race to start the 2012 SEAS season. Surprise, Tango, and Haiku met at the south end of the channel in very light conditions to discuss the race.
Since the wind appeared to be filling in from the south, the skippers decided that the circumnavigation of Grand Island would be the race most likely to have wind.  So, as the wind built to about 10 knots, the boats maneuvered around the pre-start, and began the race at 10:25. 
Haiku got out to a strong start, followed by Surprise and Tango.  As the boats passed Pt. Arden, the wind began to build to about 20 knots.  The seas were building and the race was beginning to heat up.  Surprise and Tango were able to reef their sails and made up a lot of ground on the overpowered Haiku.