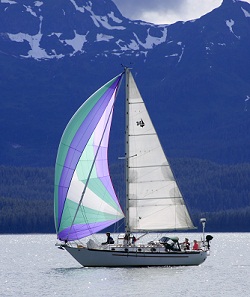 On the back side of Douglas this past Saturday it all came together for a group of sailors to enjoy another wonderful summer day in Juneau. Yes they are rare this year, but we all got lucky when we decided to go sailing with SEAS. The fog kept visibility at about a mile as Tango, Lyric, Loa'a Nalu and Haiku gathered around the committee boat, for a start off Marmion Island at 1000.
Drifting around the south corner of Douglas on a light westerly we were delighted to find a pleasant 10 knot breeze filling the course down to Pt. Hilda. As expected, Haiku took an early and dominant lead as the remaining three traded a few tacks to make the half way turn off Pt. Hilda.
A very pleasant and sunny spinnaker run back to the south end of Douglas found Tango sliding through the inevitable Marmion hole, with Loa'a Nalu  with in a ¼ mile of her stern, Haiku was long gone. 
See the results.