The crew line-up was as follows: 
Quest:  Chris and Louise Miller, with Wade Rogers as crew
Surprise: Anthony and Laurie Crupi, with their children Eli and Serena as crew
High Noon: Sean Boily and Sarah Lewis with young son Axel, and little dog Archer as crew.
Day 1:  The 2014 AIR fleet of three; Surprise, Quest, and High Noon convened at Marmion in the early morning of June 21 and very little wind, elected to motor south until they found it - off Limestone Inlet approximately halfway to the evening mark at Holcomb Bay.  That zephyr lasted a couple of hours and all were motoring across a sheet of glass by Midway Island.  Ice was found and safe anchorage was located at Holcomb where Quest invited all aboard for a shared meal and desert as well as stories of adventure.   I think it was a first for many of us to be on a boat that can so comfortably seat 7 adults and three kids around a table.  Surprise set a crab pot.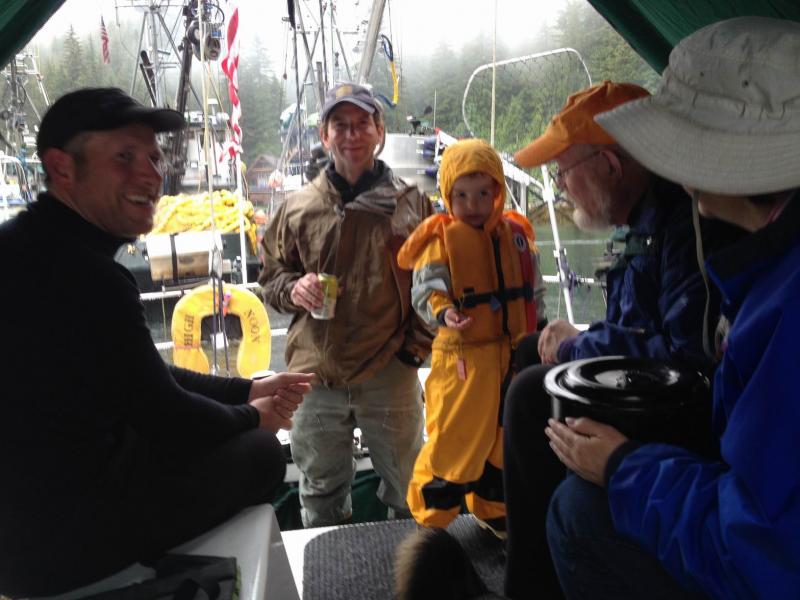 Day 2: Calm, with the excitement being that Anthony caught numerous crab in their single pot and had a promise of a shared catch at day's end.  We all motored southward towards Pybus bay in a steadily intensifying rain, with little sign of wind until the Brothers Islands, where those who were motor sailing were surpassing hull speed with a following sea as they entering Pybus Bay.  Many whales were seen that day.  Pybus Bay anchorage at Cannery Cove was quiet with only one other cruiser in sight.  Sean put an empty bucket on the aft deck for the night and was amazed that it collected more than 3" of rain in a mere 7 hours at anchor!