Well, the weekend was a gigantic success, with two great days of sailing, and three great days of weather. 
The boats left Mayflower Island at 10:15 on Saturday and raced upwind all the way to Graves Point, and had consistent breeze and speed the entire way.  The race marked the racing debut of Cetus, a Columbia 8.3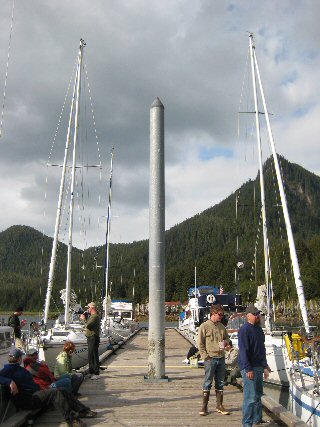 sloop sailed by Ati Nasiah, one of the newest sailors in the fleet, and she and her all woman crew did fantastic.  To see the results of this race, go here.
The boats tied up at the dock.  The barbeque's fired up, the beer and wine began to flow, and lies were told.  The end of a long day and great day.
Sunday dawned, another glorious sunny day in South East Alaska.  And 5 boats (Lyric, Mess Around, Cetus, Smoke, and Seychelles) braved the sun and light winds for the race to Twin Points and back.  Unfortunately, with Twin Points only a few hundred yards away, the wind died completely and all the boats were forced to fire up their engines and head back for another night of yarns, food, and fun.