Labor Day Regatta
When:
Saturday, September 5, 2015 - 10:00

to

Monday, September 7, 2015 - 21:00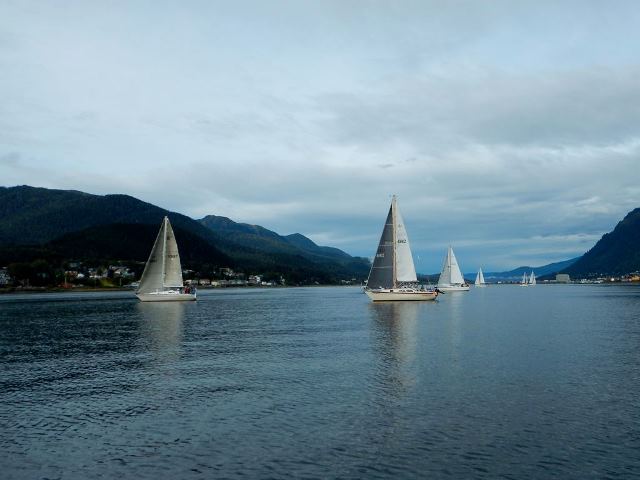 The last races of the season had the greatest turnout - 12 boats!  Despite a gloomy forecast (mostly miserable, with occasional bouts of truly awful) Saturday actually surprised everyone.  At the start, light winds prevailed as the fleet slowly tacked down the channel from the Mayflower Island starting line.  By the time the fleet got to Marmion Island, the wind had picked up considerably. 
Winds coming out of Taku Inlet gave most of the fleet a good run on a broad reach, but the wind died north of Grand Island.  The fleet bunched up and drifted with the tide.  A bit of a breeze late in the afternoon allowed the first boats to get to Taku Harbor shortly after 5:00pm.
Sunday was miserable.  Five boats stood off Taku Harbor in the rain for the start.  The rain never let up, and the winds were mostly non-existent.  The last of the boats gave up the ghost and motored back into Taku Harbor shortly after 9:00pm.
Mondays race home had less rain, but also very light winds.  Surprise tangled their spinnaker at the start, but still managed to drift with the fleet in calm seas.  Tango ended up calling the USCG when something wrapped around his prop.  High Noon, Haiku, Okojo Maru, and Asterix responded to Tango's call for help, and Dave was able to get his prop cleared and motored to Juneau.  The sight and sound of a boat moving under power affected the rest of the fleet, and boats started dropping out like flies during a heavy frost.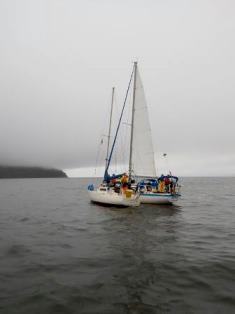 By the time the fleet had crept to the North end of Grand Island Surprise was the only boat in sight still under sail. They we bobbed back and forth in tide rips for about an hour until Turning Point joined them after passing Grand Island to the west. As they crossed Taku inlet they encountered a rare delightful wind that propelled them at 5 kts. Turning Point pointed straight for Gastineau Channel while Surprise superstitiously gave Point Arden a wider berth and the two boats remet near Point Salisbury just a few boat lengths apart. Here the wind died again and Turning Point pulled the plug leaving Surprise alone again with their wind seeker trying to make headway in a glassy channel. A breath of South wind eventually nudged Surprise within striking distance of the finish line, but boat speed slowed to an agonizing creep as the line approached. The crew spoke only in whispers and Eli and Serena were forbidden from jumping around lest they disturb the laminar flow. At last a faint wind from the creek itself mercifully pulled us over the line. Stubbornness had prevailed!  Surprise was the only boat to finish Monday.
Race results are posted on the website.