Spirit of Admiralty update
The challenging SEAS sponsored Spirit of Admiralty got off to a good start. Haiku, High Noon and Smoke, crossed the starting line Saturday morning at 1000 with light winds and overcast skies. By 1230 all boats where on a sled ride with 15 knots winds on the stern quarters down the back side of Douglas darning shades and applying sunscreen. . Haiku was the first to put up a shoot, followed by Smoke and after tacking over to Admiralty, High Noon raised their spinnaker as well and at last sighting was moving well, leading the pack.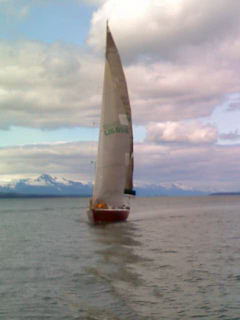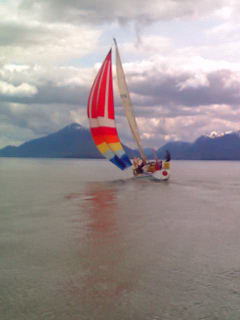 Committee boat Loa'a Nalu with crew of Liz Agnew (photo creditsto Liz), Barbra Shepherd and Nikki Dawson shadowed the fleet for the first 6 hours of the race. It was a great day for a sail. Reluctantly turning up Gastineau and leaving the Spirit racers on their down wind romp, we where rewarded by a rare westerly in the channel which kept us moving 5 knots to Douglas Harbor. 
Stay tuned here for up dates on the Spirit of Admiralty.