A Tale of Two Races
For the sailors living downtown and in Douglas, the day started early with cruise ships coming in to port starting at 4am, sounding their horns every five minutes as they passed through the dense fog that filled Gastineau Channel on Saturday morning. The weather forecast showed a storm blowing in that evening, with gale-force winds and heavy seas building in Admiralty Cove, which is not a very well protected anchorage. With memories of more than one boat dragging anchor in Admiralty Cove earlier this summer, it was decided at the pre-race Skipper's Meeting to forego the evening fellowship and race back the same day.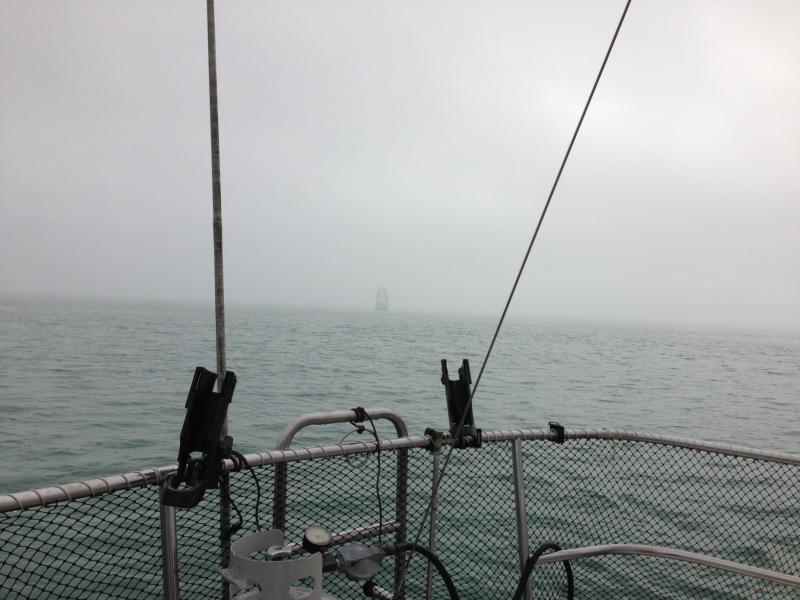 Visibility was low as Loa'a Nalu, Haiku, Optiminium, and Cetus motored out to the Marmion Island start of Leg One. Boats struggled to find and then stay within view of Loa'a Nalu, serving as Committee Boat, and at a half-mile from the day mark, no one could actually see the other end of the start line. Eight to ten knots of breeze was enough for a strong start and Haiku was quickly in front on an upwind tack. Wary of the low visibility, even with GPS, Haiku, Optiminium, and Loa'a Nalu all gave Marmion a wide berth, staying well clear of the point before all quickly setting their spinnakers. With Loa'a Nalu and Optiminium both flying their asymmetrical spinnakers, Haiku's symmetrical allowed her to point more downwind as they all rounded Douglas, building a lead that she would not relinquish that morning. Cetus stayed much closer inland, and without a spinnaker in her sail inventory, was unable to keep up with the rest of the fleet for very long.
The fog was left behind as the boats rounded Douglas revealing a high overcast with scattered sucker-holes. Winds stayed fairly consistent, blowing upwards of 15 knots as the boats made the long, downwind run. Haiku was the first across the finish line, bearing 280 degrees to Skull Island. Doing a rough calculation of the ratings, Haiku hung out on the finish line and as Optiminium crossed less than 12 minutes later, they knew it would be close on corrected time. Loa'a Nalu would cross within the next half hour, and all three dropped their headsails, toodling around while they ate lunch, fished, enjoyed the day, and waited for Cetus to finish.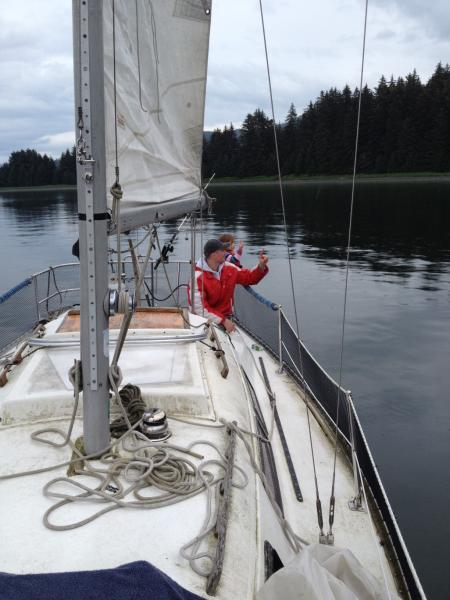 Cetus crossed the finish line around 3pm, and opted not to join the race back, anchoring up in Admiralty Cove for a few hours while they cooked dinner. Loa'a Nalu generously volunteered to act as Committee Boat again for the start of Leg Two, which began on the same line the boats had just finished across. The skippers all agreed to waive the normal 9pm finish cut-off due to starting so late in the day, but with winds blowing up over 15 knots and forecast to build the rest of the evening, no one expected that late a finish.
The horn blew at 3:20pm with Haiku, Optiminium, and Loa'a Nalu all on a starboard tack towards Douglas. Optiminium tacked back early towards Point Young and were lifted up along the shore and into a slight lead before the wind began to lighten significantly. Around 5pm, the S/V Silver Moon hailed the sail boats off the backside of Douglas. She had been motoring out to join the fleet at Admiralty Cove for the evening festivities and missed the notification on SEAS Facebook page about the last minute change of plans, but fortunately noticed several boats sailing in the opposite direction.
Not yet halfway home when the drifting began, along with a steady rain, and with no sign of the wind picking up any time soon, Loa'a Nalu turned on her motor and headed back to town. Optiminium and Haiku took turns catching enough air to overcome the current and actually move forward, trading first place numerous times over the course of several hours. Over five miles from the finish, staring at the GPS and willing the numbers to move them forward, some back-of-the-napkin math on Haiku determined that each hundredth of a nautical mile that slowly ticked by meant they had moved about two boat-lengths closer to home.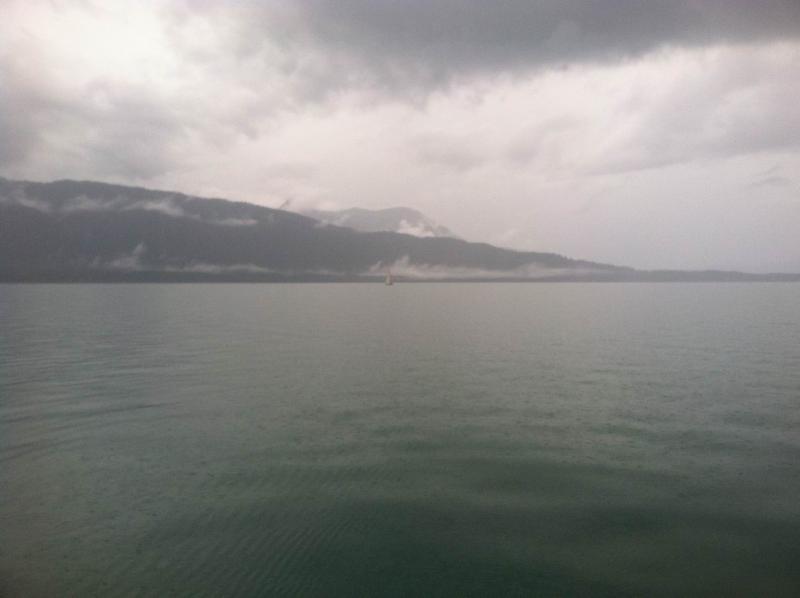 Around 8:30pm, with dusk closing in, Haiku caught enough breeze to give hope that the day would not end in a DNF. Within about a mile she caught winds gusting upwards of 15 knots and quickly cruised ahead. Losing sight of each other in the closing darkness, even with running lights on, Haiku and Optiminium were left wondering where the other was. The wind was ever-changing direction as Haiku cleared Douglas and it took several tacks to make Tantallon Point, at which time the winds started to lighten again and the seas filled in with one to two foot chop, making it difficult to make any headway. Meanwhile, Optiminium caught the wind about a half hour behind Haiku and began making progress before hitting the same low winds and chop. A favorable current keeping both boats moving forward while numerous power boats cruised by in the dark. The sound of creaking lines caused Haiku's crew to look behind them and realize that Optiminium had all but caught back up.
As both boats rounded Douglas, Haiku maintaining her lead, Cetus motored past on her way home, surprised to see the race was still on, and paused to watch some of the action, as it were. The waves became less problematic as the boats turned down the channel, finally within sight of the finish. A slight breeze picked up that was just enough to keep them moving in the right direction with Haiku taking line honors just fifteen minutes ahead of Optiminium, though with such a long race time she would correct into first place. It would be midnight before the boats would make it back to their harbor slips and their crews would wearily make their ways home, happy to at least sleep in their own beds.
While the storm did not blow in as early as predicted, Sunday morning saw a deluge of rain blowing in sheets across Juneau, with whitecaps on the Channel that made everyone happy to not be out on a sailboat, beating upwind into the weather.