Fabulous Funter Bay 2014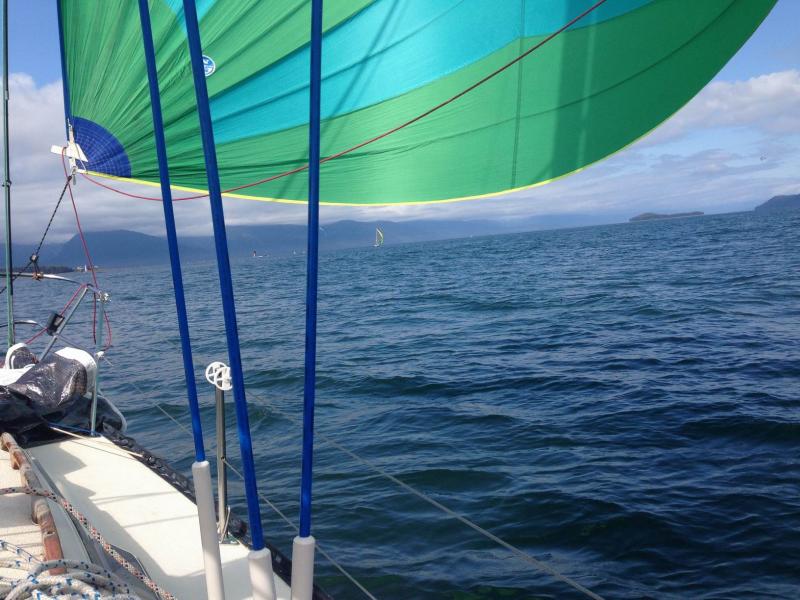 Saturday, Race One: The first race began on Saturday morning in a slow start in light air off Portland Island. Five race boats started on the line and headed off toward Point Retreat. Spinnakers were set and all the boats reached along the first leg with the available breeze.
The turn offered a 15 knot breeze and all the boats began to beat to weather creating a space for decisions along the back stretch. High Noon was able to lift a bit higher and shot between Admiralty and the Kittens to take the line in front to Funter Bay on a single tack, completing the race in just under 4 hours. Haiku, Shoreless and Optiminium ran along with high noon above Strauss Rock buoy until the breeze freshened in Saginaw Channel. Optiminium straddled the gap between the lead boats while Thalia and Lyric brought up the rear. Thalia made a move and was able to pass into the forward echelon, finishing after High Noon, Haiku, and Shoreless. Optiminium made a bold move as drastic times called for drastic measures. Optiminium sailed inside the Kittens & Naked Islands as Thalia tacked outside., Optiminium was able to make its  way through with favorable current and high winds in only 2 short tacks and narrowly crossed ahead.
Sunday, Race Two: A southerly breeze greeted 4 race boats on the line Sunday morning. The sea state was a maelstrom of multi-directional rolling 2-3 foot waves, with a 4-footer arriving when least expected. Spinnakers were flown for the first leg from Funter Bay to Point Retreat. Optiminium flew her asymmetrical spinnaker on a port jibe and was overpowered by the 15 knot breeze. High Noon also had a memorable turn with asymmetrical, genoa, and main all pulling strong, and a little overpowered at Point Retreat. The turn offered opportunity into the wind toward Auke Bay and the finish line. High Noon, Thalia and Haiku all led the way along with shoreless on the upwind leg of the race. After we'd gathered our bearings, and pulled tight the tack line, the chute was up again and we were pointing nearly downwind. Sailing above hull speed we were able to stay within sight of the frontrunners, Thalia, Haiku & High Noon, alongside Shoreless. The wind waned and Optiminium was stuck in a hole for 30 minutes. All the boats drifted on a failing wind within site of the finish line. A brisk 10 knot breeze filled in just when all hope was fading for a finish and a thunderous beam reach with 15 knots of wind took the fleet into Auke Bay harbor. High Noon crossed with Shoreless and Haiku not far behind. Optiminium persevered and finished with the fresh breeze.
Monday, Race Three: Two boats made the line on a beautiful sunny day. Haiku & Optiminium made the line but were both short-handed. Optiminium was single-handed, while Haiku had two crew on board. Optiminium started with the spinnaker sock and asymmetric, while Haiku was powered by its Genoa. The lead traded twice while reaching across to Colt Island. Haiku jibed towards Outer Point while Optiminium jibed within a ¼ mile of shore and was able to pick up a freshening northerly breeze and stay on this jibe until Middle Point. Haiku was stuck in a hole at this point, which allowed Optiminium to take a 5 mile advantage. Optiminium needed all of that lead before the race was over. Meanwhile the breeze had come around to the NE, and Optiminium took a beam at  5 knots. Haiku was in hot pursuit once past Point Hilda, so Optiminiumwnt down into the Admiralty shore and left a beam reach to the finish with building waves rolling under the beam. At the end, Optiminium had spun around facing Haiku as she came to a screeching halt 300 yards away in the Marmion deadzone. As Haiku madly dropped their spinnaker and worked to get the main up, Optiminiums sails filled and she started moving close to the Marmion shore. The wind died at 252 degrees,  but Optiminium drifted across the 240 finish bearing just ahead of Haiku.