The Very Windy SEAS Kick-Off Race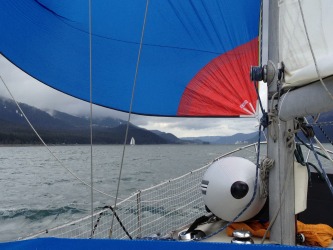 Three sailboats motored to the Marmion Island starting line to race in SEAS Kickoff race to start the 2012 SEAS season. Surprise, Tango, and Haiku met at the south end of the channel in very light conditions to discuss the race.
Since the wind appeared to be filling in from the south, the skippers decided that the circumnavigation of Grand Island would be the race most likely to have wind.  So, as the wind built to about 10 knots, the boats maneuvered around the pre-start, and began the race at 10:25. 
Haiku got out to a strong start, followed by Surprise and Tango.  As the boats passed Pt. Arden, the wind began to build to about 20 knots.  The seas were building and the race was beginning to heat up.  Surprise and Tango were able to reef their sails and made up a lot of ground on the overpowered Haiku.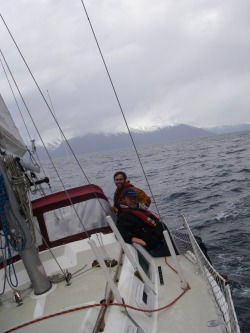 All three of the boats chose to round Grand Island to port.  As they neared the south end of Grand Island with Haiku still in the lead, but severely overpowered, the wind speeds began to build with some gusts well over 30 knots.  Surprise overcame its own excessive healing to get by Haiku to be the first boat to the windward mark.  Meanwhile, Tango had reduced sail and was creeping up behind both the leaders.
As the boats took their turn, and began running downwind, they began seeing boat speeds of up to 10 knots in the wind.  Surprise reached up a bit higher, and Tango and Haiku ran a little deeper.  Letting Haiku sneak by and regain the lead.  
The Marmion/Arden/Bishop triangle struck again with slightly lighter air, and Haiku and Tango used the opportunity to set their spinnakers while Surprise ran wing-on-wing down the channel.  Tango rode the spinnaker down the channel to close the distance to the other boats, and all three boats finished within 7 minutes of each other. 
After correction Tango had finished first, Surprise second, and Haiku third.  The official results are here.