First Sailboat Race of 2011!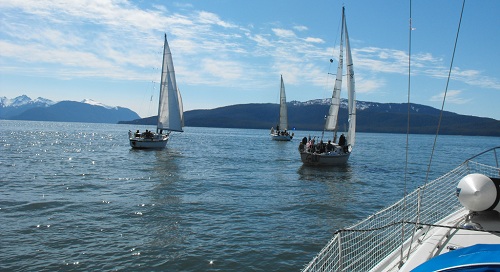 If Sunday is a harbinger of things to come, 2011 may be the best SEAS year ever.
While the boats motored to Marmion Island for the start of the 2011 racing season, the sun was shining, the wind was blowing northerly, and the crews were getting warmed up.  As they approached Marmion the wind lightened and shifted to southerly, as per usual, but the fleet could see the white caps in Stephen's Passage, just waiting to be sailed.
After a brief discussion on the radio, Haiku, acting as committee boat, announced that the race would proceed to Pt. Hilda and back to Marmion, a race of approximately 19 nautical miles.
L'oaa Nalu, Smoke, Tango, Lyric, Surprise, and Haiku began racing an 1100 in light southerlies, all of the boats reaching as far as they could for the darker water and white caps out in Stephen's Passage. 
Upon reaching the breeze, the boats beat their way up Stephen's passage in 15-20 knots of breeze, some boats were overpowered, and others had reefed.  The race was quite exciting with the majority of the fleet heading towards Oliver's Inlet before tacking towards Hilda. 
As they approached the windward mark, the breeze built to over 20, gusting to 25, promising a fast run back down Stephen's to Marmion.
Haiku was the first boat to make the windward mark, and set her spinnaker for the run back.  Followed closely by Surprise, Lyric, Tango, Nalu, and Smoke.
The run home was very fast, with boats averaging over 6 knots, and approaching 10 as they surfed the front of the waves.
All of the boats had finished the near 20 nautical mile course in under 5 hours, with Haiku crossing the line first in under 4 hours.
What a great day of sailing.  Sun, steady breeze, and good fun!
Check out the results here.