First Sailor's Talk a Resounding Success
On a cold February day in 2011, approximately 20 sailors met in the new Northwind Architecture office to talk with Commodore Jim Mahan about cruising to White Sulphur Hot Springs on Chichagof Island. 
After Jim's talk, Skipper/Father/Architect Sean Boily wanted to ask about reefing systems, and what type people found to be the best, especially in shorthanded situations.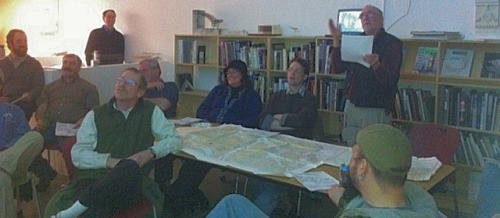 White Sulphur Springs
Commodore Jim Mahan, a seasoned veteran of South East Alaska's waters, plans to take a couple of weeks this summer to take his wife Annette, and his golden retriever Ruby to White Sulphur Hot Springs on the outer coast of Chichagof Island.  Of course, L'oaa Nalu, a 34' Crealock, is the vessel that Jim and family will be taking to get there.  This will be Jim's sixth time to the hot springs.  He has been there on float plane, small power boat, 30' Rawson sailboat, and of course the beautiful L'oaa Nalu. 
In keeping with SEAS goal of promoting sailing, Jim agreed to share his local knowledge of how to navigate the rocky, swirling waters heading to the springs.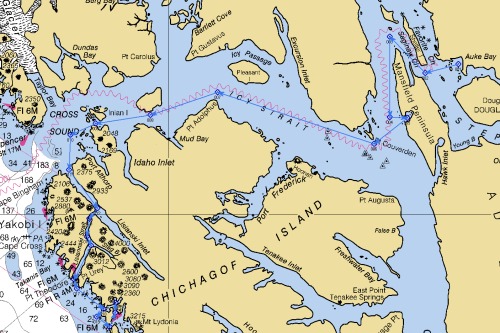 Nalu lives in Harris Harbor, so that is where this journey will begin.  Generally, a trip around Douglas Island to Statter Harbor in Auke Bay is the first leg of the trip.  Provisioning and water can be done in either place.  This year, the Nalu will depart from Auke Bay shortly after the 4th of July, and proceed to Funter Bay for the night and continue west out Icy Strait's. Numerable anchorages, including Spasski Bay, Hoonah, Flynn Cove, Pleasant Island, and even Pt. Adolphus, make it a great place to cruise and setup your passage through South Inian Pass into Cross Sound.  The main point here is that you want to reach South Inian Pass at a slack tide, because the currents are known to run up to 10 knots.  Now, according to Jim, Cross Sound can be quite lumpy as the swell from the ocean comes right up into the sound.  If you meet that swell with a following current you can be in for a rough ride as the seas get quit tall and steap. 
As a precaution, Jim noted that there are several places you can wait for the weather to calm down to make your passage into South Inian Pass, including Earl Cove.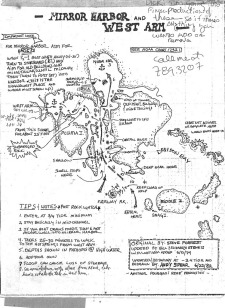 L'oaa Nalu, and its intrepid crew, plan to stay at Inian Island for a few days visiting their friends, and watching the power trollers come and go from Cross sound.  Jim also mentioned that just a few miles away is the fishing community of Elfin Cove, it is a great place to reprovision, get water and fuel.  It also has a great little general store for any food you might want to pick up on your way to White Sulphur.
After a nice weekend with friends, Nalu will continue on her way by heading south through Lisianski Inlet and Lisianski Strait until the navigation gets a lot more tricky.
Once the boat leaves Lisianski Strait, the crew will have to pick and choose its way behind islands and rocks to avoid the large ocean swell until they get to the entrance to mirror harbor.  (click on the image to the left to get a hand written chart of the entrance).
Once Jim releases his secret route to White Sulphur Hot Springs, we will gladly post it here.
---
Reefing Systems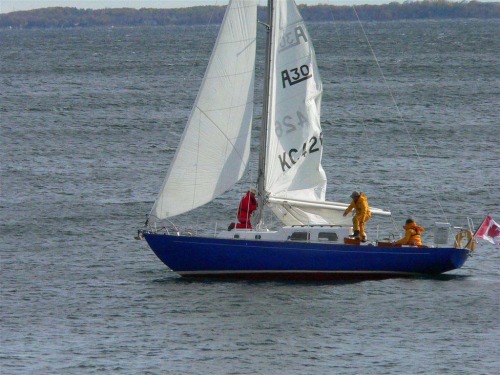 One of SEAS skippers, finds himself with a new and young family.  Combine a family with a 30 knot blow, and Sean Boily finds himself with quite a large handful.  So, he needs to change his main reefing system to one that can take place entirely from the cockpit by one person, unlike the photo on the left.
A lot of discussion centered around technical discussions about how to rig blocks and lines to allow for a single line for each reef versus two lines for each reef, as opposed to the traditional reef.  This is complicated by the possibiltiy of having to reef a second time.
As you can see here, there is a lot to discuss.
We are not sure what Sean plans to do yet, but stay tuned for further developments.
---
Stay tuned for the next Sailor's Talk....