Funter Bay Hooky
Funter Bay Hooky not much sailing
The winds did not cooperate for the hardy few who manage to get out to Funter Bay for a round of 3 potential races.
The first leg on Saturday July 25th brought 5 boats to the starting line, Freebird, Sarah Jane, Loa'a Nalu, Lyric and RainDog. With light winds all but 2 boats managed to get around Pt. Retreat and had a pleasant spinnaker run to the Funter Bay finish line. Sarah Jane finished first in corrected time but Freebird the "big red boat" as we referred to her on the course, took line honors and showed that the she can really move in almost any condition.
Leg 2 the first running of the Hanus Reef race was cut short when the wind disappeared just after the fleet squeaked past Rocky Island.  Loa'a Nalu was the first to scratch with the whales of Pt. Adolphus calling.  A week of cruising planned and provisioned, the decision was made to just keep going west. Sarah Jane and Lyric drifted for a few more hours and opted to take time to fish and relax back at Funter Bay.
Leg 3 found even less wind on the channel and no one bothered to get serious about racing.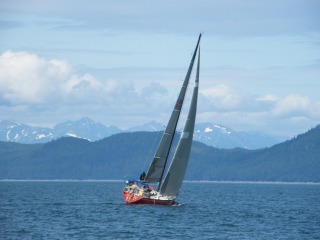 "The Big Red Boat"