Admiralty Island Rally Report
The crew line-up was as follows: 
Quest:  Chris and Louise Miller, with Wade Rogers as crew
Surprise: Anthony and Laurie Crupi, with their children Eli and Serena as crew
High Noon: Sean Boily and Sarah Lewis with young son Axel, and little dog Archer as crew.
Day 1:  The 2014 AIR fleet of three; Surprise, Quest, and High Noon convened at Marmion in the early morning of June 21 and very little wind, elected to motor south until they found it - off Limestone Inlet approximately halfway to the evening mark at Holcomb Bay.  That zephyr lasted a couple of hours and all were motoring across a sheet of glass by Midway Island.  Ice was found and safe anchorage was located at Holcomb where Quest invited all aboard for a shared meal and desert as well as stories of adventure.   I think it was a first for many of us to be on a boat that can so comfortably seat 7 adults and three kids around a table.  Surprise set a crab pot.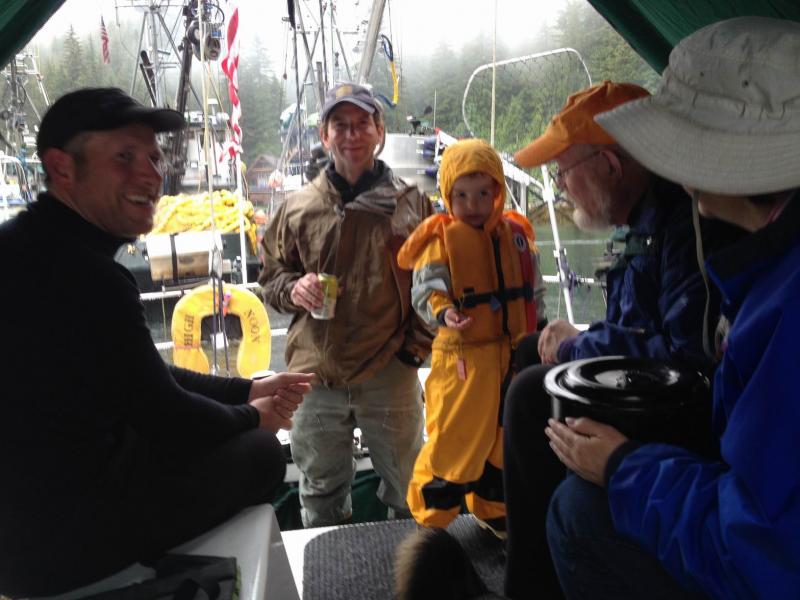 Day 2: Calm, with the excitement being that Anthony caught numerous crab in their single pot and had a promise of a shared catch at day's end.  We all motored southward towards Pybus bay in a steadily intensifying rain, with little sign of wind until the Brothers Islands, where those who were motor sailing were surpassing hull speed with a following sea as they entering Pybus Bay.  Many whales were seen that day.  Pybus Bay anchorage at Cannery Cove was quiet with only one other cruiser in sight.  Sean put an empty bucket on the aft deck for the night and was amazed that it collected more than 3" of rain in a mere 7 hours at anchor! 
Day 3:  It was still pretty damp when all boats headed for Yasha Island, the southernmost mark of the race and the turning point north towards Warm Springs Bay.  Again - wet with little wind, but at least there was a strong tide at our back!  The wind built around Yasha Island with gusts to 20 kts or so on top of the rips of converging tides. A short lived moment of excitement which petered out and a glassy motor on to Warm Springs Bay ensued.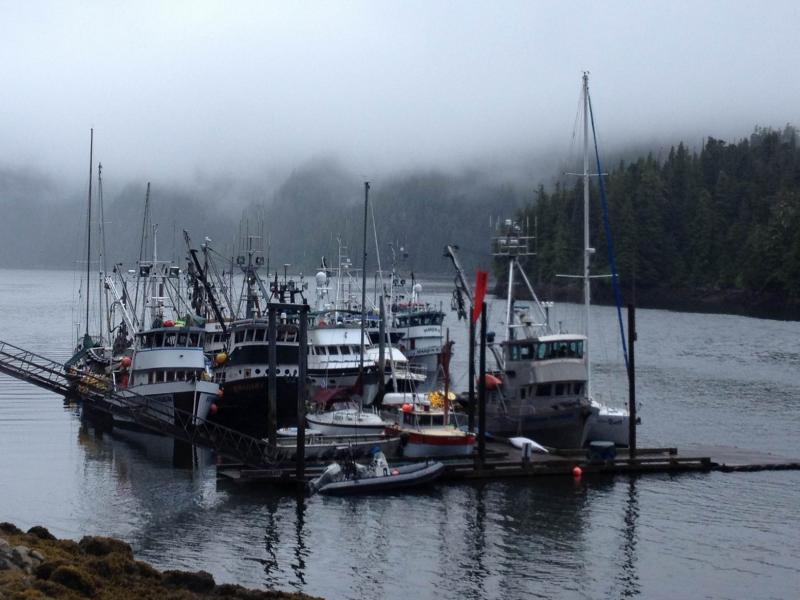 Day 4: Warm Springs Respite.  The dock facilities were shared with 8 or so seiners, rafted out with evening generators humming and dockside revelry of the fishing crowd.  Still a bit damp but clearing.  Serena's 7th birthday party on High noon - crab, shrimp, salmon,  corn on the cob and cupcakes were shared by all!  With all the rain, the moon pool in the woods was cold, the baths themselves were uncomfortably hot (hard to imagine!), and the lake was high, so the trout fishing was not great.  Anthony and Eli sure tired hard to catch something, but rather than two full days at Warm Springs Bay, the AIR skippers and crew decided to skip out of there on the noon of the second day.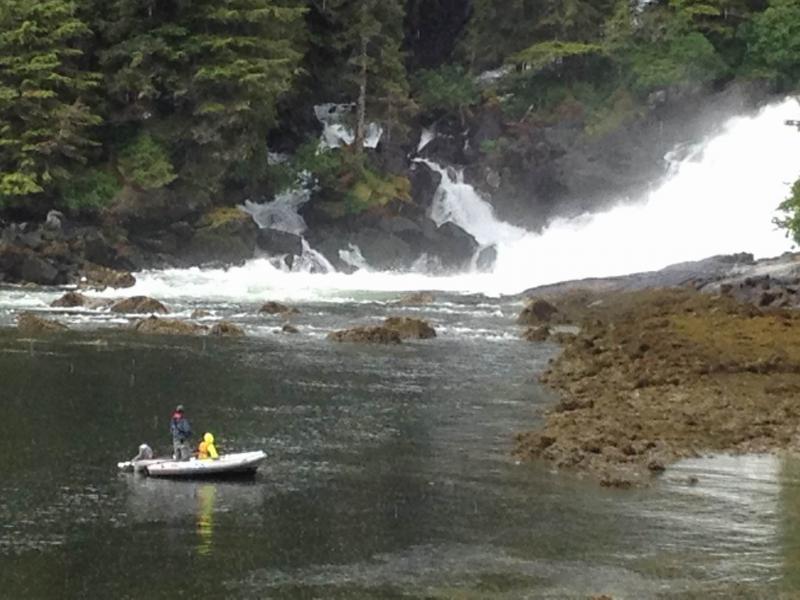 Day 5: Ell cove.  A nice little bomb-proof anchorage just north of Warm Springs Bay, preceded by sunny weather and some of the best broad reaching sailing any of us had seen in a while!  I think we all said to ourselves "keep going north! It's not going to get better than this!", but had agreed on the waterfall and cove just south of Hidden falls.  Ell is  well protected, made for a comfortable raft-up to Quest, with a nice little granite beach out in front for the kids to frolic and cook  s'mores.
Day 6:  The morning departure saw a brown bear sniffing through the ashes of our fire and 52 seiners making sets out in front of Hidden Cove!  Running the gauntlet, we all motored north in calm seas, picking up northerly of 10-12kts off Peril Straight that carried High noon and Quest to Tennakee Inlet.  Another sunny day.  Surprise stopped off at Basket Bay to fish a bit, then went in to Freshwater Bay for the evening.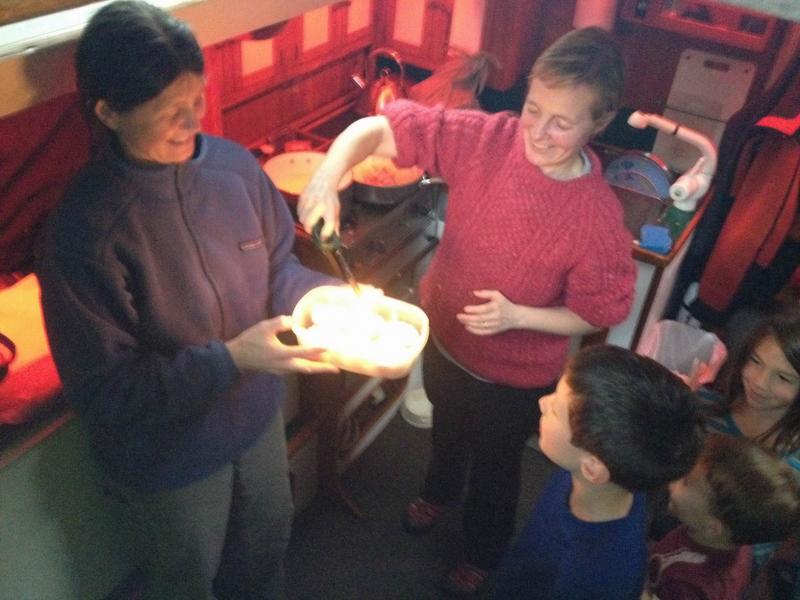 Day 7:  After a Tenakee Hot Springs bath and stroll around town, we all headed north to reconvene at Whitestone Inlet.  Fighting the tide all afternoon in partially cloudy skies and calm waters with little wind, we all motored in that evening in time for desert and drinks on Quest.  A whale made a visit in the cove.  No crab in the pots and too many bugs!
Day 8:  Returning Home started with a lovely beat across the mouth of Icy Straight - all at or above hull speed, but that petered out by Funter Bay and did not pick up again until well around Point Retreat, where the rain set in again for a while.  Off the green can, south Shelter, High Noon parted ways with Quest and Surprise who were headed to Admiralty cove for the evening.  Auke bay clean-up was muggy and hot - low 70's and sunny that afternoon.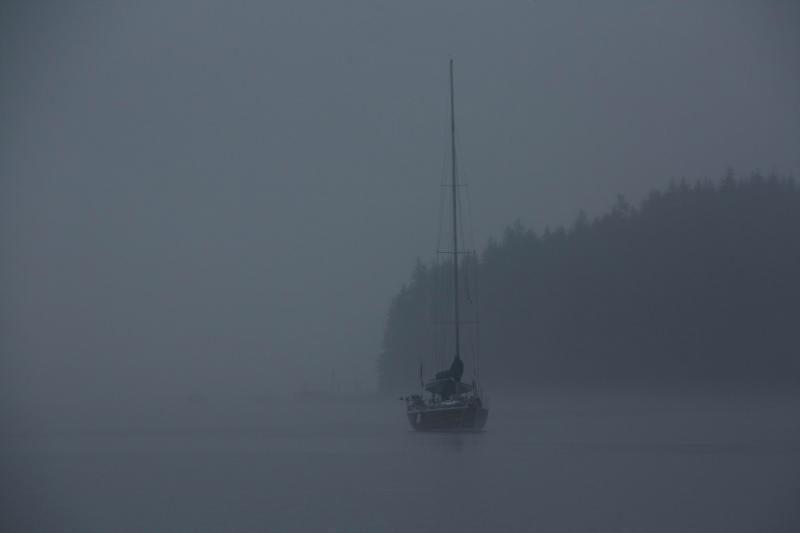 So it was more a motor boat trip than any past Admiralty circumnavigation I have been on, but it was truly a pleasure to cruise with other sailors!  In rain or shine it is always worth it to be on the water here in Southeast Alaska in June!
For those wanting to hear more about this year's AIR, join us at the Island Pun on Wednesday, July 9, 2014, at 8pm (post-GOTB) for an informal reception for the AIR crews.