In My 22 Years of Sailing by Sean Boily
In my 22 years of sailing, I've been active in three sailing organizations: the Homer Yacht Club, the Juneau Yacht Club, and Southeast Alaska Sailing (SEAS). I've thoroughly enjoyed the friendships and associations I've made through these groups, but there have been days when membership asked more of me than I wanted to give… as happens whenever you join others in a common venture. On those few times I've asked myself "why am I a part of this and what am I getting in return?"
A traditional reason to be in a Yacht Club is the reciprocal benefits available at clubs throughout the world. But I don't travel enough, nor am I enough of an extrovert to take advantage of this, so it's not a draw for me. Others may find prestige with yacht club membership, but I just don't see that connection in Alaska.
I've continued to join sailing clubs for the simple reason that I love sailing. I love the magic of harnessing the wind and overcoming natural fears of that awesome power. I love the technical study of perfecting that measure of control, and learning my personal limits.  Ownership of a sailing vessel is another pleasure – not so much the polishing of brass and teak, but the maintenance of systems and hardware that gives me the confidence that everything will function correctly when needed. But why join a group to do this? Sailing can be a solitary venture, if desired, and some people seek that out. But I have an anecdote that underscores why many mariners and sailors seek out like-minded comrades: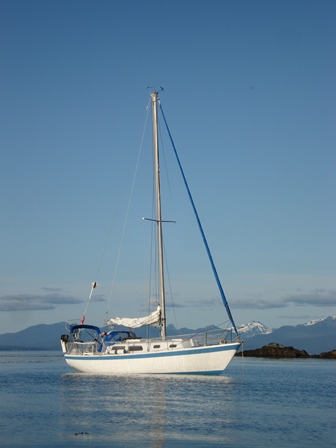 I purchased my second sailboat, Tango, a 30 year old Cal 34, in the summer of 2004, less than a year after moving to Juneau. She needed a lot of attention but had nice lines and sailed like a dream, and that inspired me to give her what she needed. And she matched my budget. In the following four years I replaced almost everything but the engine, hull and rig. She was not pretty as new, but she was quick, strong, reliable, and served our family well. So much so that as opportunities to "upgrade" became available I let them pass. In my mind, something owned and known has far more value than a survey price.
Then, in December of 2008 while on a family holiday on the isolated Hawaiian island of Molokai, I found an area with cell coverage and received a heartrending series of messages. The first was from a live-aboard neighbor in the harbor telling me of a blizzard in Juneau, and that Tango was looking low in the water. The second message from him was more frantic: he was breaking in and putting a pump on board, Tango was foundering.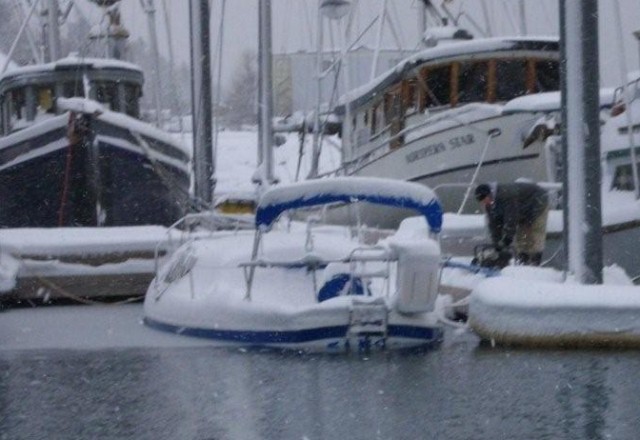 The third was from the harbor master telling me my boat was sinking (they took a while to figure out I was not answering my home phone, and there were other boats sinking in the storm). The fourth was from a business partner and fellow sailor who received a call and was hauling all of our sodden gear to his garage.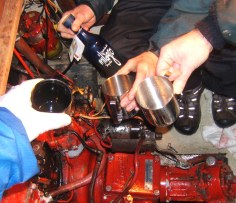 The fifth and final message was from a group of guys I sail with, toasting the roar of
Tango's
engine with the last of a bottle of tequila they found on board. The same diesel engine that a day before had been under a foot of seawater, and without their quick rescue would have been a total loss. They did this the days after Christmas, with freezing hands, during a winter storm. And none of them owed me money or any other debt. A fellow sailor was in need - what else could they do?
The emergency was the result of both user error and mechanical failure: a slightly open through-hull valve was combined with freezing weather and faulty wiring. Tango was a near loss – wiring, electronics, propane system destroyed, stoves, heater, upholstery, woodwork, plumbing, pumps, batteries and engine electrical gone. In fact if the engine core had not been saved, insurance would not have been sufficient to cover its replacement. I briefly toyed with the idea of collecting what I could – the original purchase price and then a little; cutting my losses and going shopping for a new boat. But the reality is after such an effort I found myself in a different type of debt – I owed it to the efforts of those fellow sailors to make things right by this old and almost beaten boat and an absent comrade. And so Tango was refurbished through the rest of the winter, and sailing by spring.
Any regrets? Hell no. This is exactly why I join other sailors like those in SEAS: to promote the joy of sailing, boat ownership, and the commitment of other sailors to each other and their craft. Here's to Gerald, Jimmy, Mike and Tim. The act of these sailors crystalized my understanding of our common bond. Thanks to them, the Tango sails on. Of course they may regret it when on occasion Tango catches up to them in a SEAS race…..
Sean Boily
S/V Tango, Juneau
SEAS Commodore, 2012