Sailor's Talk Recap
Although the weather was sunny, several faithful members and visitors participated in last night's Sailor Talk ~ including 8 Skipp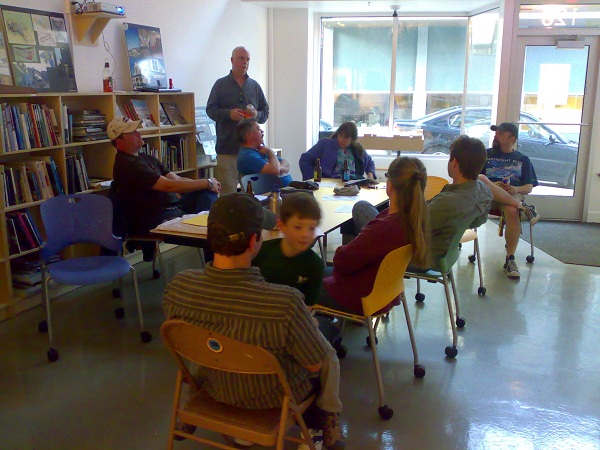 ers and 7 crew.  Also give a big SEAS welcome to  two New Skippers Members who signed up ….  Gus Marx of S/V Maeve a Pacific Seacraft Sloop and Sigrid Dahlberg & Hal Geiger of S/V Okojo Maru a Albin Vega …. Welcome!!!!
Wade Rogers, the SEAS Racing Committee Chairman spoke on sailing rules when racing, along with skookum mini-videos demonstrating what can and shouldn't happen at the beginning of a race. 
Brief version (a copy of the rules is attached):
10 ON OPPOSITE TACKS
11 ON THE SAME TACK, OVERLAPPED
12 ON THE SAME TACK, NOT OVERLAPPED
13 WHILE TACKING
14 AVOIDING CONTACT
15 ACQUIRING RIGHT OF WAY
16 CHANGING COURSE
17 ON THE SAME TACK; PROPER COURSE
19 ROOM TO PASS AN OBSTRUCTION
19.1 When Rule 19 Applies
19.2 Giving Room at an Obstruction
20 ROOM TO TACK AT AN OBSTRUCTION
20.1 Hailing and Responding
20.3 When Not to Hail
21 STARTING ERRORS; TAKING PENALTIES; MOVING
23 INTERFERING WITH ANOTHER BOAT ASTERN
GPS and using Channel 68 was mentioned as the best ways to communicate between the fleet when getting ready to race.
While racing what is too close?  " If you have 2 maneuver  to avoid..that is too close!" was mentioned by one of our Skippers.  Another stated "Don't trade paint!"
Penalty turns of  720 degrees for contact w/other boats, which means doing a tack/jive twice; otherwise other penalty's you would be required to do a 360 degrees.  Should the Skipper decide to protest, the rules clearly suggest how and when the protest can be made and discussed.
Mike Rentel of S/V High Noon was on hand to answer questions on sailing trim; generously giving away some of his racing secrets to those who attended, so too bad for those of you that decided to enjoy the sun instead..  Mike has a wealth of sailing and racing experience to share and we appreciate the fact he was able to attend and his willingness to share many words of wisdom.