Sailors Talk - April 13th
On April 13,  fourteen skippers were present along with other members and those interested in learning by crewing and helping with maintenance this summer.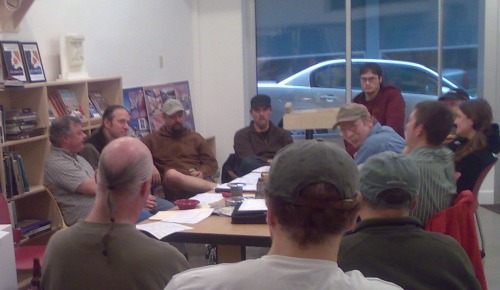 After the introduction of old and new members, and SEAS guests, the discussions began.  Our old friend,  Brad Tibbs, S/V Freebird, interjected a wealth of information from his years of experience as a machinist.
Working on the Bottom
Sean Boily started the meeting with a discussion about places to haul out a boat.  It's reported that soon the same rates will apply to all harbors.  There were many ideas and concerns expressed about hauling out and painting. 
It was suggested that when you put back in that you use carpet on the slings to protect the freshly waxed hull.
Discussions about being work to do when out
Painting the bottom 
Rudder Repair
An option other than being hauled out is placing your boat on the grid.  Jim Green has a lot of experience putting Lyric on the grid.  Skipper Green recommended (diagram here):
waiting for at least a 15 foot tide;
keel should be resting on caps 3-5 which are 5 foot on center,
use four lines to tie the bow and stern horizontally and vertically, and fenders or batter boards where the boat leans against the piling.
Rope the boat around the fender and pile, to keep from heeling away from the piling.
use bumpers and lean the boat into the pile
Move quickly, Get it done and Get back in the water.  
Certainly is the cheaper option at 95 cents per foot per day. 
NOT recommended for larger boats / or racing keels.
Remember to take off your masking tape BEFORE the tide returns, or else you'll have streamers all the way back to the slip.
Painting the Bottom  ( Sail Magazine Article )
Quick Bottom Prep for grid:
Use pressure washer as soon as tide falls enough to move around the boat.
Then hand scrub hull with bristly pad or sander while hull is wet.
Dry hull with paper towels or old cotton towels.
Dry with propane weedburner if needed (hull is wetter on shore side of grid).
Rub hull with acetone or paint thinner. 
Apply masking tape around boot stripe while everything dries.
A 34 foot boat takes 5 quarts of bottom paint.
usually paint the hull with one coat, and  the keel and rudder with two coats.
It would probably pay to double paint the boot stripe.
Paint should dry to touch within 30 minutes if conditions are right.
Note that returning tide will wet keel first.
Don't forget to change your zincs!
Rudder Repair 
Santana 20 Bearing Repair Suggestions
PDF from Catalina
 
Top Side Repair
Removing oxidation may result to mildew. Be sure to Wax it as soon as you clean it.  There's a 3M product that works well to remove oxidation, then apply a product called Penatrol  (reapply every 12 months)
Great cleaning products recommendation: 
FSR
ospho mixed ½ and ½ with water
don't leave on too long removes  stains, then wax
Some helpful links:
Bonding Hardware

Unique methods for non skid included grinding walnut shells and apply to varnish, then do a varnish top coat.  Also there's a hard Clear plastic grip that is suggestively used by Mike Rentel.