Admiralty Island Rally 2020 – June 20-June 28
Admiralty Island Rally 2020 – June 20-June 28
This year's AIR was a spectacular Southeast Alaska cruise, comprised of 7 legs of sailing and a two- day layover at Baranof Warm Springs.  Weather was typical – overcast with a few days of sun, and a few days of persistent rain!    Official participants include S/V Surprise – Anthony and Lori and Crupi with their two teens Eli and Serena (she had her 13th birthday in Baranof!),  S/V Lyric skippered by Wade Rogers , with crew member Kacie Timothy, and  S/V A Little Romance Skippered by Steve Parker, with Crew Hal Geiger. Support participants included S/V Morning Star skipped by Rick Edwards with his son Kieran as crew, and M/V Juniebell with Sean Boily and Sarah Lewis, their son Axel, and ever vigilant sea-dog Chili. 
The course and play by play:
Leg 1, 6/20 - Marmion Island to Point Astley: 
Race start off Marmion Island at 10 am was bumped up to Pt. Arden and 11am due to lack of wind.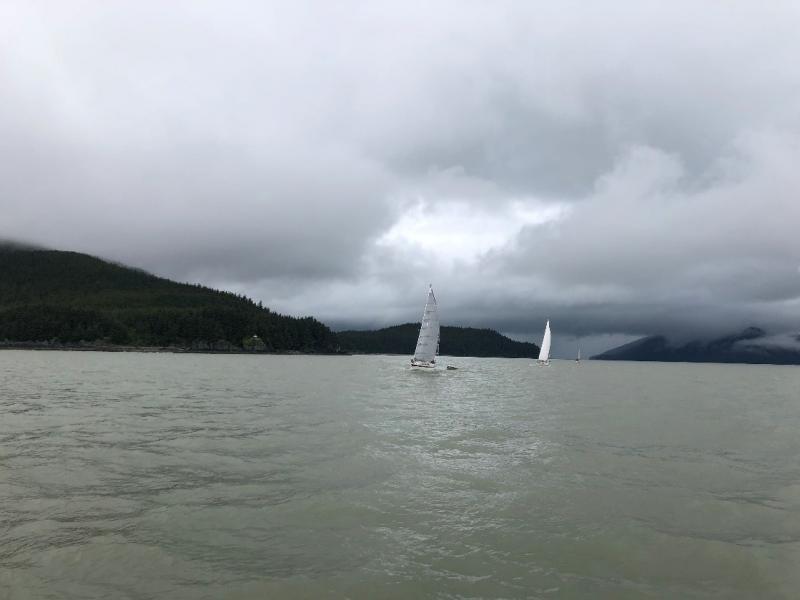 Racers marching up to the Marmion line
Committee boat Juniebell had a mechanical issue and turned back to Juneau for repairs (new alternator) an hour after the start.  Sea state went from flat and calm to a stiff breeze by Grand Island.  Juniebell ran back to town for parts and met up with the fleet at Holcomb Bay around 11:30pm.  Reportedly Surprise and A Little Romance Sailed more than half of this leg before motoring on.  Surprise caught 19 Dungeness Crab at Holcomb Bay that afternoon (wow!).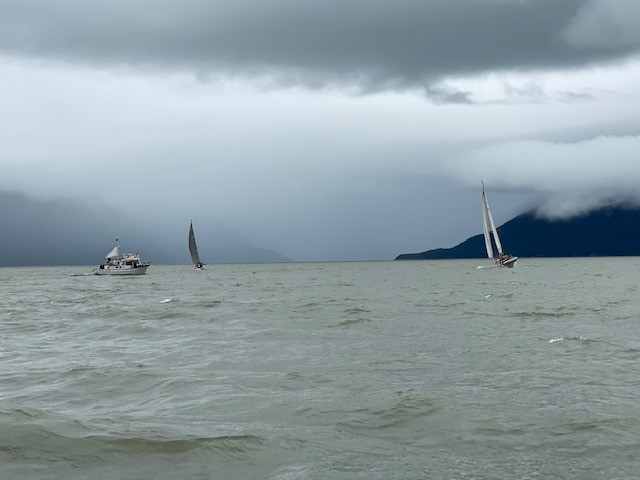 Surprise, A Little Romance and committee boat – charging south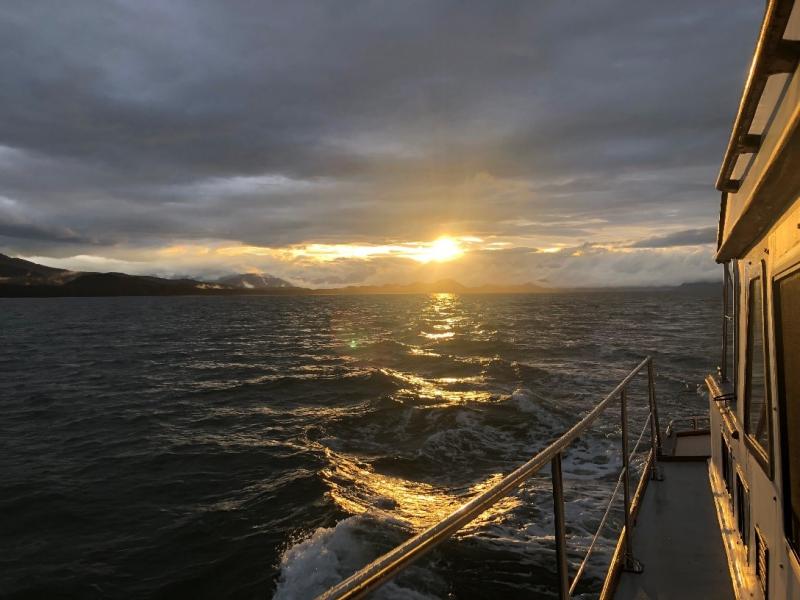 A little evening sun
Leg 2, 6/21 - Point Astley to Pybus Bay
Officially we did not have a race start.  A little Romance sailed halfway to Pybus Bay,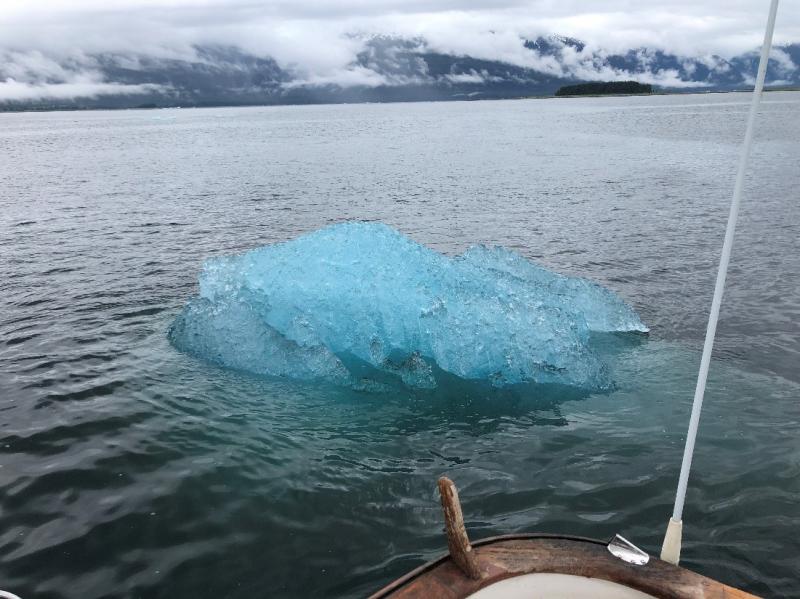 A little ice in Holcomb Bay
 while Surprise caught 8 more crab and a halibut that morning prior to motoring on.  All other boats motored, despite what looked like decent wind midday. Whales everywhere – general comment was there seemed to be a whale or group of porpoises everywhere you pointed your boat!  Overcast, intermittent rain most of the day.  Father's day on the water!   Solstice evening in Pybus Bay!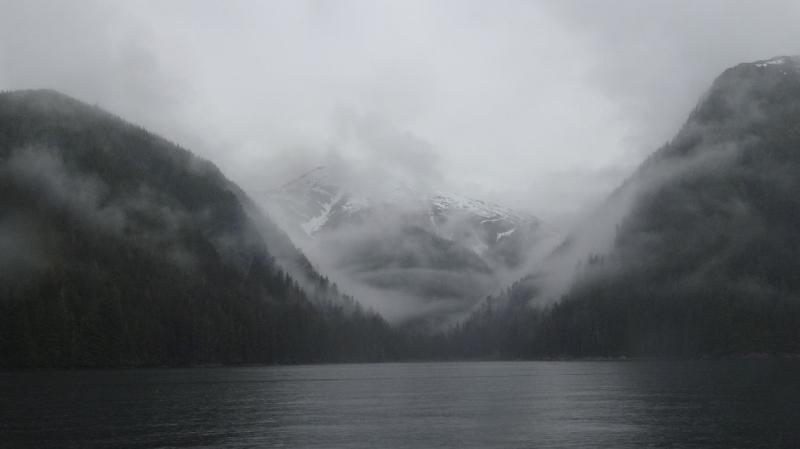 Pybus Bay weather
Leg 3, 6/22 - Pybus Bay to Warm Springs Bay
No official start – committee boat delayed reeling in a halibut (Axel's first!).  A Little
Romance made the starting line and sailed off Spruce Island in light breezes from the southeast for half the day.  All others elected to motor on that morning, though Surprise sailed around Yasha Island.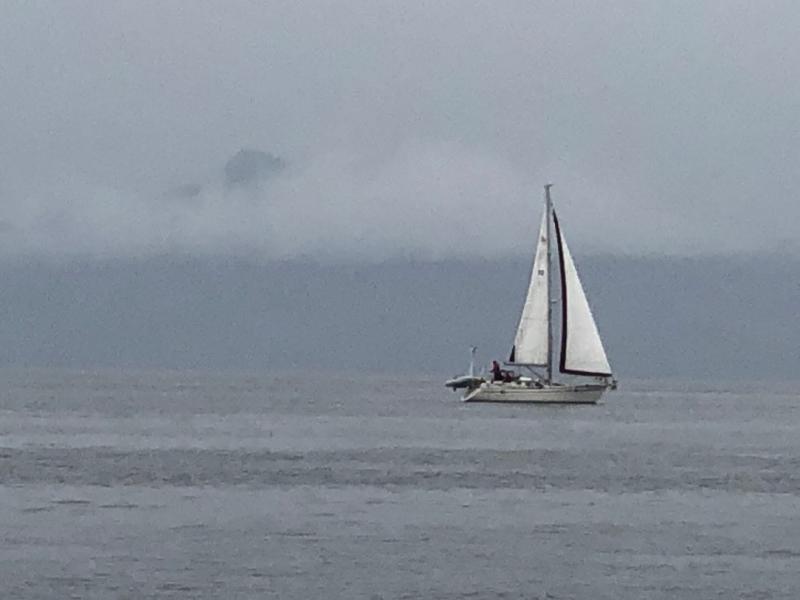 A lonely Little Romance on the starting line
Layover 6/23-24– Warm Springs Bay
Yes, the SUN did come out!  Two of the three tubs were open with the hot water flowing! There was food shared, paddle boarding, hiking, running about by dingy, etc!   Few other boats at the dock – a seiner, a couple tenders, some folks of the mini-cruise ship Serenity.   Fairly quiet compared to other years. Happy birthday to Ssrena!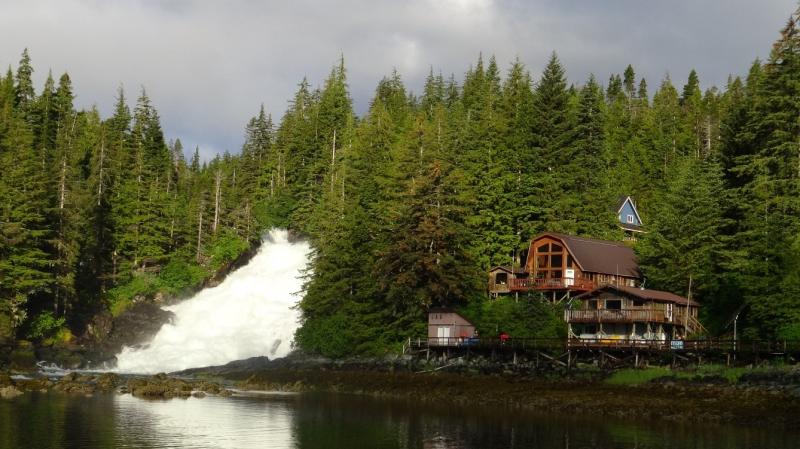 Baranof Warm Springs 2020
Dockside at Baranof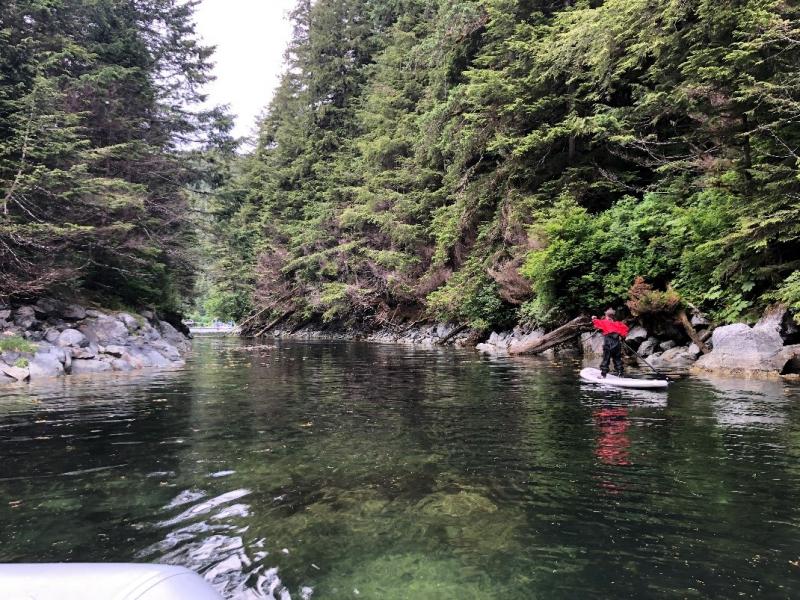 Salt-chuck adventure with the kids at Baranof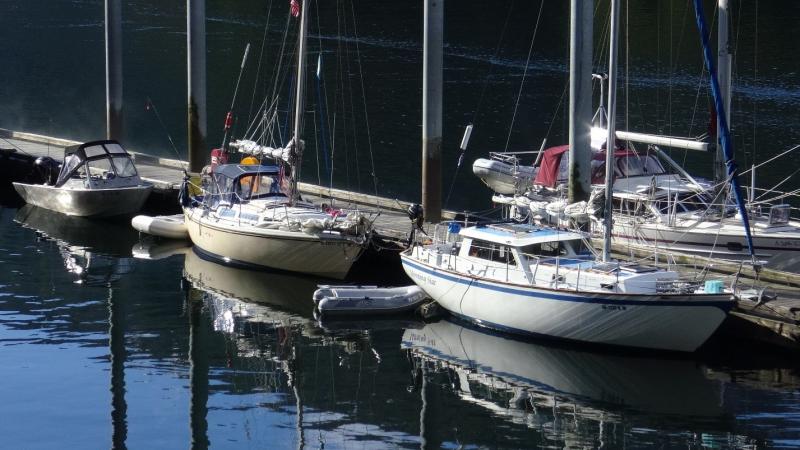 Lyric, Morning Star, A Little Romance
Leg 4, 6/25 - Warm Springs Bay to Basket Bay
Exciting start at 9am in 15-18kts breeze from the north-east!  Surprise, A Little Romance and Lyric charged up to and over the line towards Basket Bay.   A Little Romance and Surprise finished that leg in that order.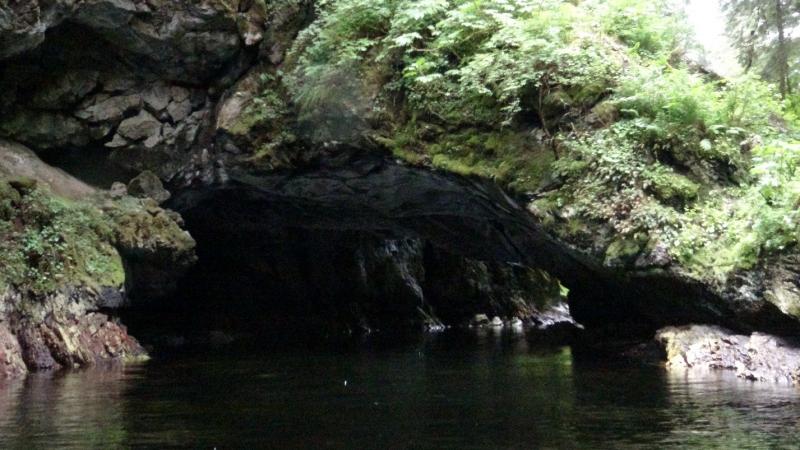 Sea-arch - Basket Bay
Despite a relatively calm of early evening, the fleet rock and rolled at anchor in Basket Bay with the swell reaching the all the way into the anchorage.  Surprise hung off Juniebell for the night with a liberal supply of olive oil applied to fender to keep the noise down, Lyric hung off Morning Star and got their rigging tangled up in the roll – masthead damage to Lyric.  In the 2am tide change eddies, JB and Surprise swung to within a few feet of A Little Romance and had to real in some scope to avoid a bump in the night.   Exhilarating!  And exhausting.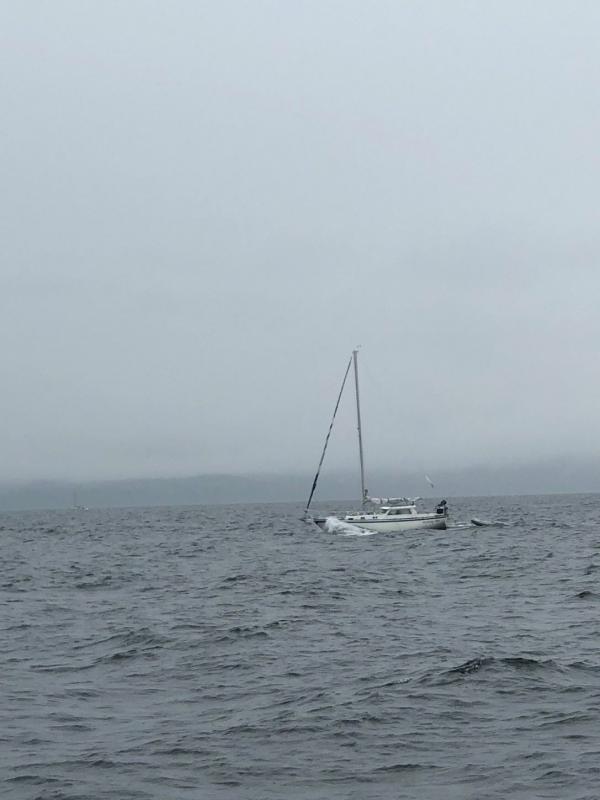 Morning Star powering north into some weather
Caught some more crab thought…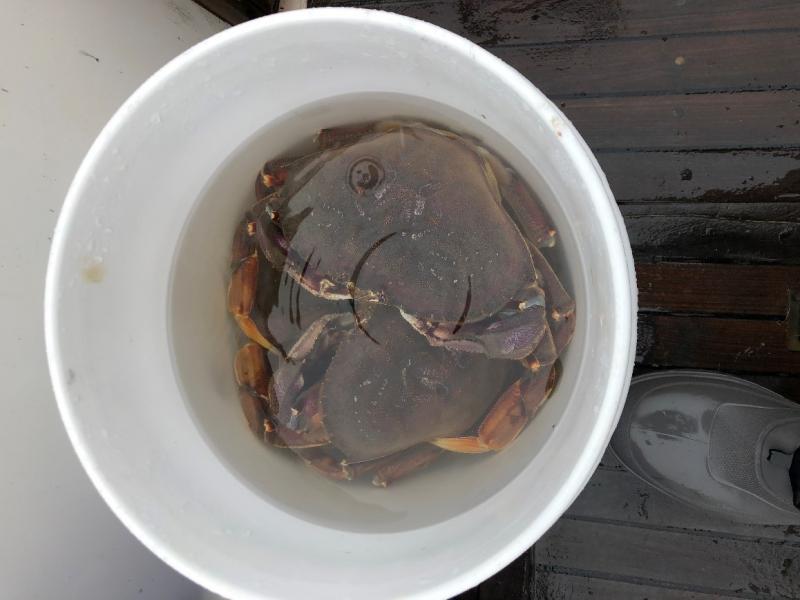 Leg 5. 6/26 - Basket Bay to Whitestone Harbor
A 9:15 start on a misty morning lead to Surprise and A Little Romance sailing most of the day but ultimately motoring to Whitestone Harbor by evening.  Morning Star and Lyric motored onto Funter Bay.   The clouds lifted in that lovely anchorage for a pink sky sunset, some more cake was shared around, and a nebulous plan was established for the next day – no one was excited about heading home.  But Eli caught 2 halibut.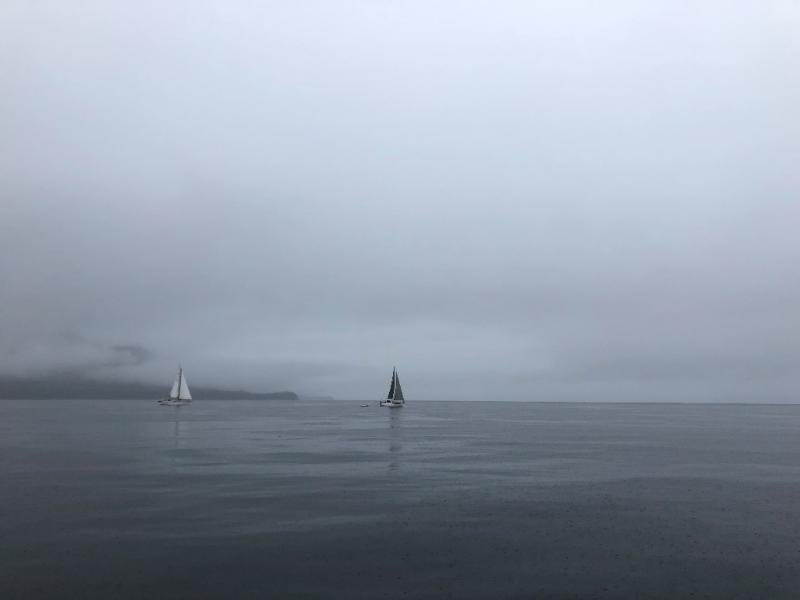 Surprise and A Little Romance heading north from Basket Bay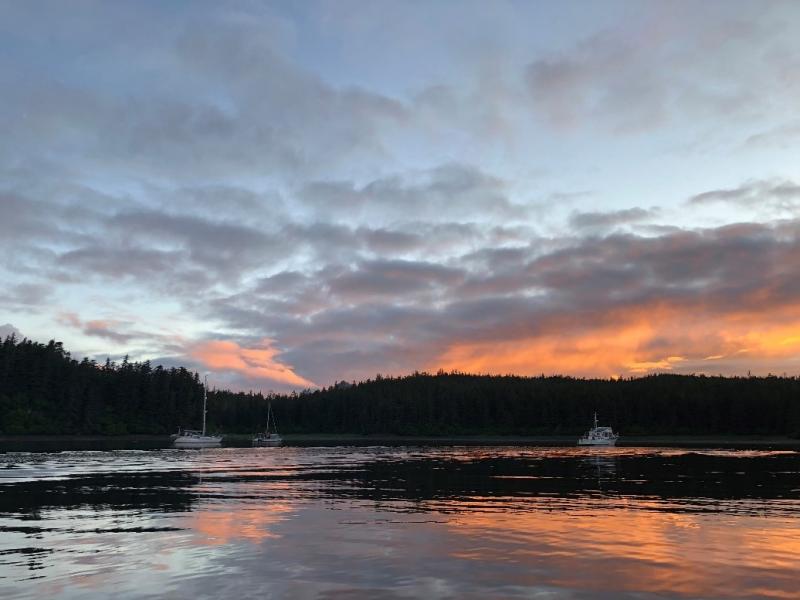 Whitestone Harbor sunset
Leg 6, 6/27 - Whitestone Harbor to Auke Bay
Well, there was more fishing going on in the morning.  Surprise and A Little Romance started sailing around 10 am, while Juniebell split off the fleet to check out Couverden. It was a sunny day with good wind - Surprise reported a fantastic reach across Icy Straight and up towards Point Retreat completing half the course, then motoring on to anchor up in Admiralty Cove for the evening.   A Little Romance wrapped up at Auke Bay, her home port.  Juniebell motored into Barlow Cove for the evening, exploration and sunset – gorgeous!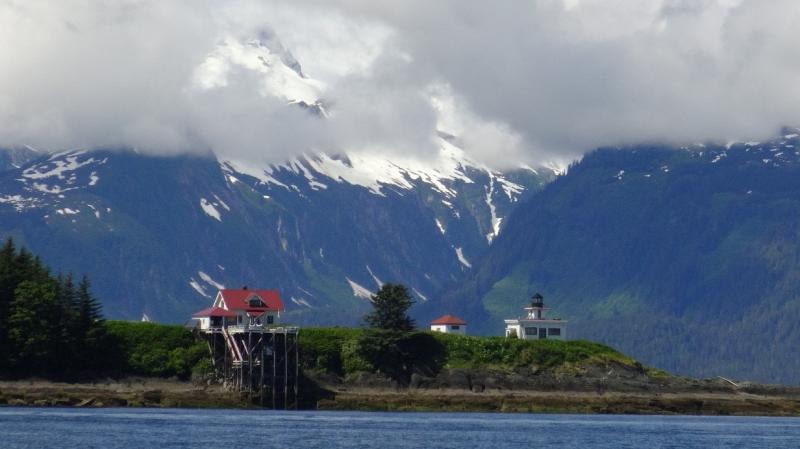 Pt. Retreat - home again
Leg 7 6/28 - Auke Bay to Marmion Island
No participants this leg – the fleet did not reassemble, being so close to home.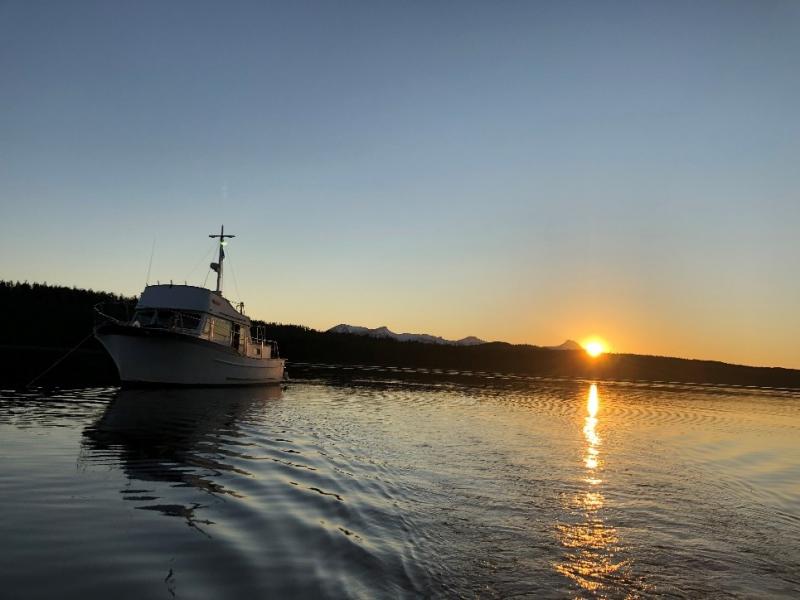 Juniebell at sunset- Barlow Cove
 

Cruiser Scoring (All attendees recognized)

 

 

 

racers

Boat

crab caught (1/2 Pt per)

Fish caught (1 Pt per)

Shared food; crab/fish/beer/cake(1 pt per)

Service/Anchor (1 pt per)

Leg half way under  sail (1 pt)

Full Leg finished under sail (5 pts)

Total

1

Surprise

13.5

3

11

0

2

5

34.5

2

A Little Romance

0

0

5

0

5

5

15

3

Lyric

0

0

8

0

2

 

10

 

Morning Star

0

0

6

3

0

0

9

 

Juniebell

4

0.5

5

1

0

0

10.5
I think all will agree it was an excellent voyage!
Skipper Comments:
"What a great trip around Admiralty this year with relaxing respite at Baranof Warm Springs!  Thanks to all who participated and helped organize this event." – Anthony Crupi – S/V Surprise.
"I think the funniest thing that happened to Hal and I was his automatic self-inflating life vest inflating after that wet wet day leading into Baranof." – Steve Parker, S/V a little Romance
"A grand time was had by all. It's a very social and enjoyable group to go sailing with - I really like the format of a race during the day and then a common anchorage at night and some socially distanced interaction. The nightly crab deliveries by Anthony were much appreciated. Food sharing at Baranof was fantastic and had some great conversations with folks. Also got some nice days of sailing in and despite the rainy and overcast weather it was glorious on the water.  I'm ready to do it again." Rick Edwards., S/V Morning Star
"Look - this boat DOES have a sail!" – Sean Boily, Crew, M/V JunieBell (Sarah Lewis is Captain)
.